Take better pictures
Mobile phones give anybody the ability to quickly capture what is going on around them, but there is no guarantee that the footage will be in focus, blur-free or in the case of videos, without shaking or erratic movements.
If there are some visual imperfections, it's usually not that big of a deal. Nobody expects holiday snaps or family get-togethers to be award-winning. However, if you do want to win awards for your stunning footage, you must make sure that the recording device remains as steady as possible and the only way to do that is with a camera stabilizer.
Shop this article: Zeadio Video Action Stabilizing Handle, Hohem 3-Axis Gimbal Stabilizer for GoPro Cameras and FlyCam HD-3000 Telescopic Handheld Stabilizer
Slow and steady wins the race
A camera stabilizer shouldn't be confused with image stabilization, which is a software process in cameras and video recording devices. The software compensates for small pan and tilt motions, stabilizing the image to reduce blurring.
However, a digital camera stabilizer essentially does the same thing but on the physical camera. It is usually a metal rig, handle or pole designed to minimize hand movements or shaking while holding it. The part where the camera attaches to the stabilizer arm is called the mounting head, and a three-axis gimbal on top of that is the primary component that keeps everything level.
While they all perform the same function, there are different kinds of camera stabilizers. It's a great idea to see which gadget works the best for you according to the material being shot. For example, if you are filing action sports such as skateboarding where you need to get low to the ground, a handheld U-shaped stabilizer is best.
But, if you plan on filming people, animals or fast-moving objects from relatively a consistent height, then a weighted rig or handheld pole is an excellent option. For more extreme scenarios (and definitely the Hollywood style of filming), there are camera stabilizers that attach to a vest or harness. These provide the most stability but the vests are often cumbersome and heavy.
Best budget camera stabilizers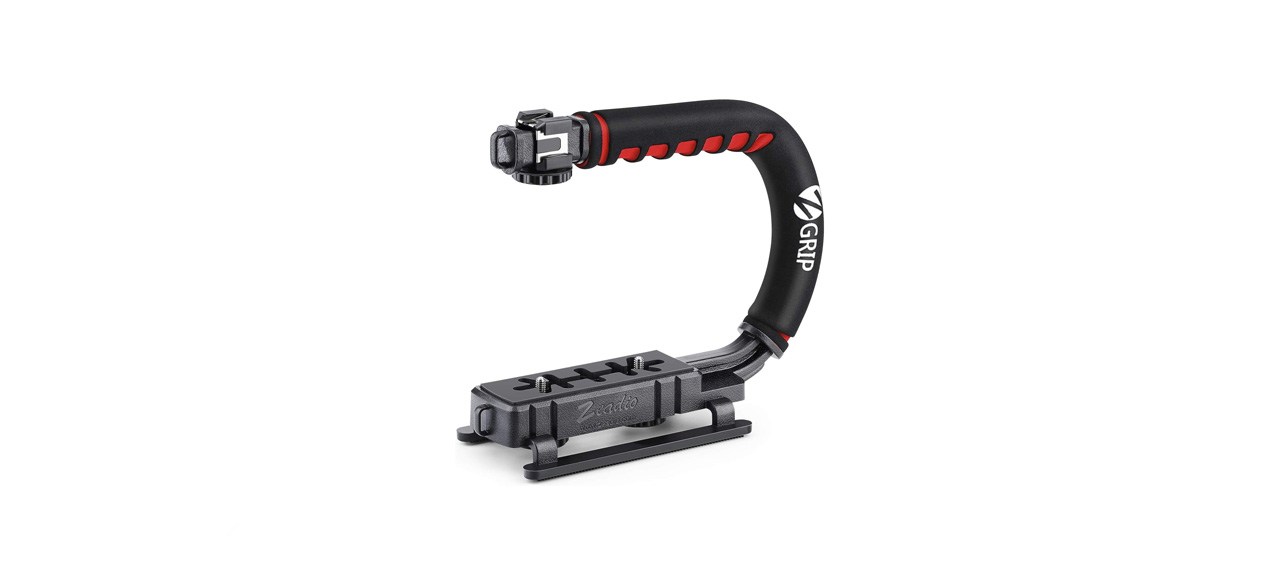 Zeadio Video Action Stabilizing Handle
This stabilizer is an affordable option if you don't want a complex rig to steady your shots. The simple U-shaped handle is easy to carry and is compatible with various cameras that have a 1/4-inch 20-thread. At the top of the handle is a space to attach a microphone.
Sold by Amazon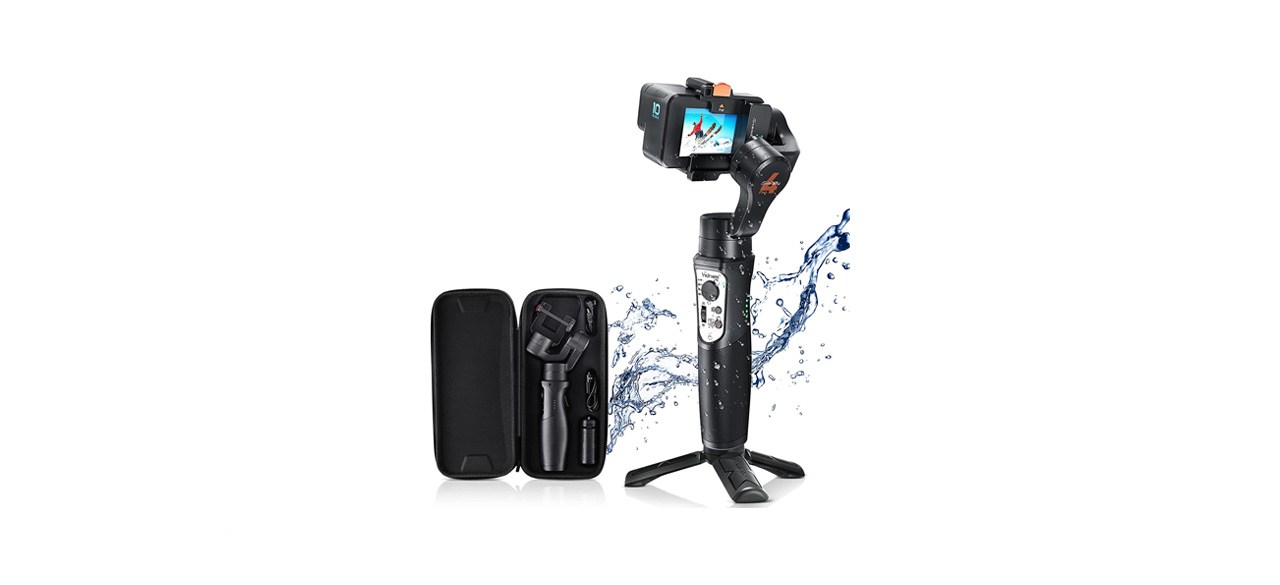 Hohem 3-Axis Gimbal Stabilizer for GoPro Cameras
This is an excellent option if you want to keep your action shot from a GoPro camera steady. The sturdy handle has several buttons that you wirelessly pair with your camera so you don't have to put it down. Primary stabilization is through a three-axis gimbal at the top that reduces motion, tilting and shaking.
Sold by Amazon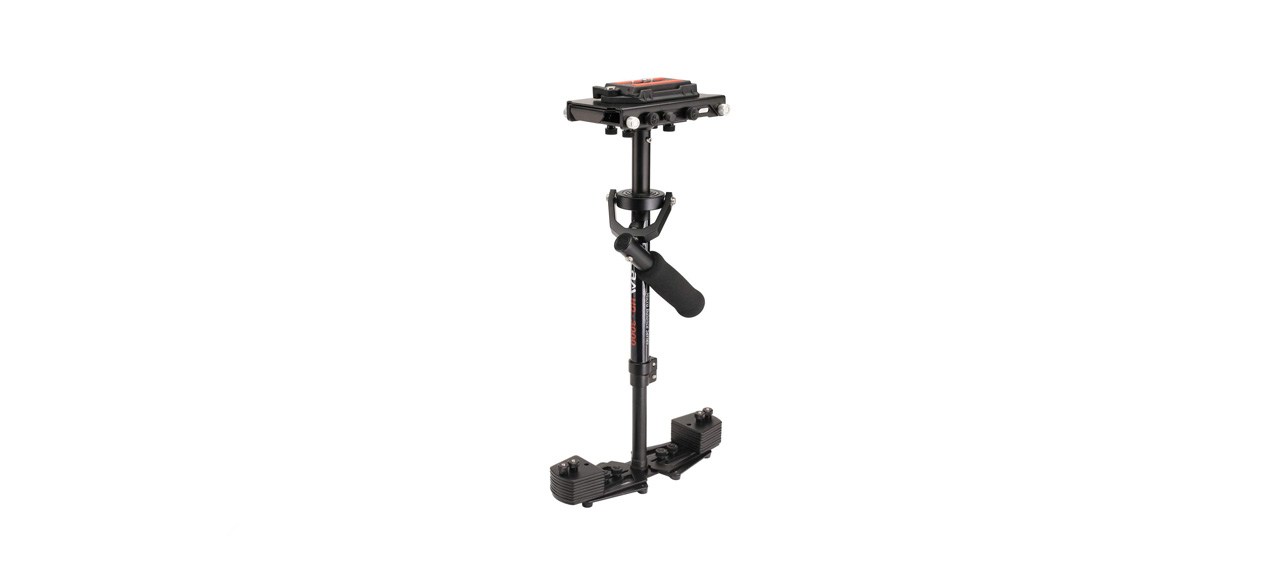 FlyCam HD-3000 Telescopic Handheld Stabilizer
If you prefer a stabilizing platform that has a bit more heft to it, this handle is the perfect solution. The 23-inch metal pole has an angled handle for comfort and is attached to the three-axis gimbal. There are 16 weight plates at the bottom of the pole for added stability and the mounting head is compatible with various attachments.
Sold by Amazon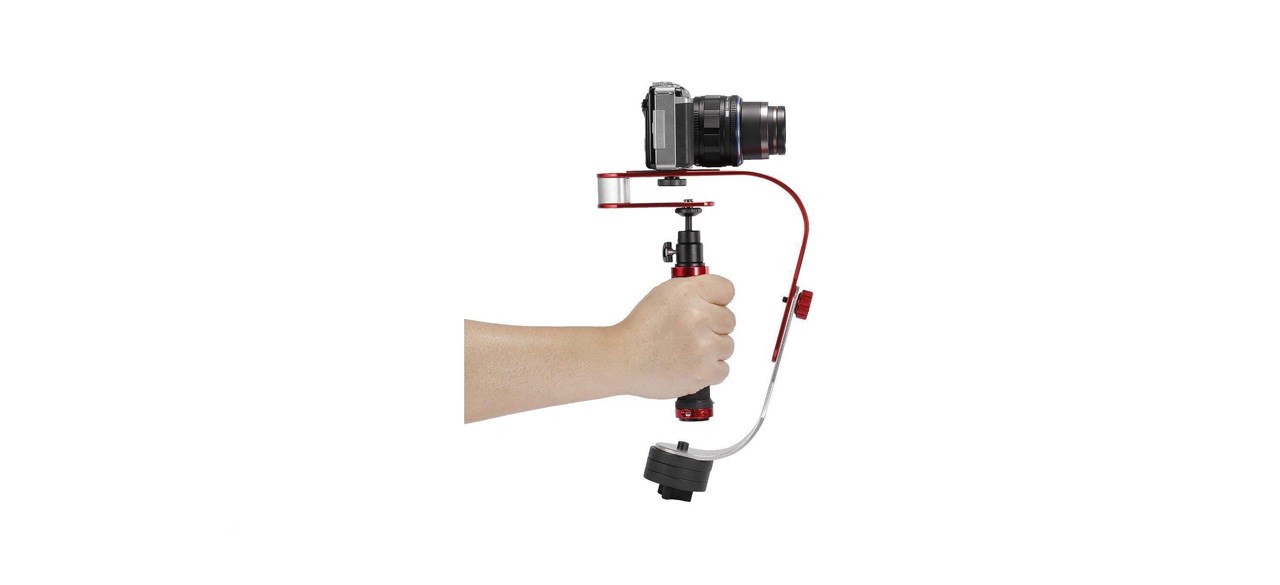 Wondalu Pro Video Camera Stabilizer
Compatible with video cameras up to 2.1 pounds, this sturdy stabilizer consists of a metal handle with a gimbaled mounting head on top, which is in turn attached to several weights at the bottom. The handle is textured rubber for added comfort.
Sold by Amazon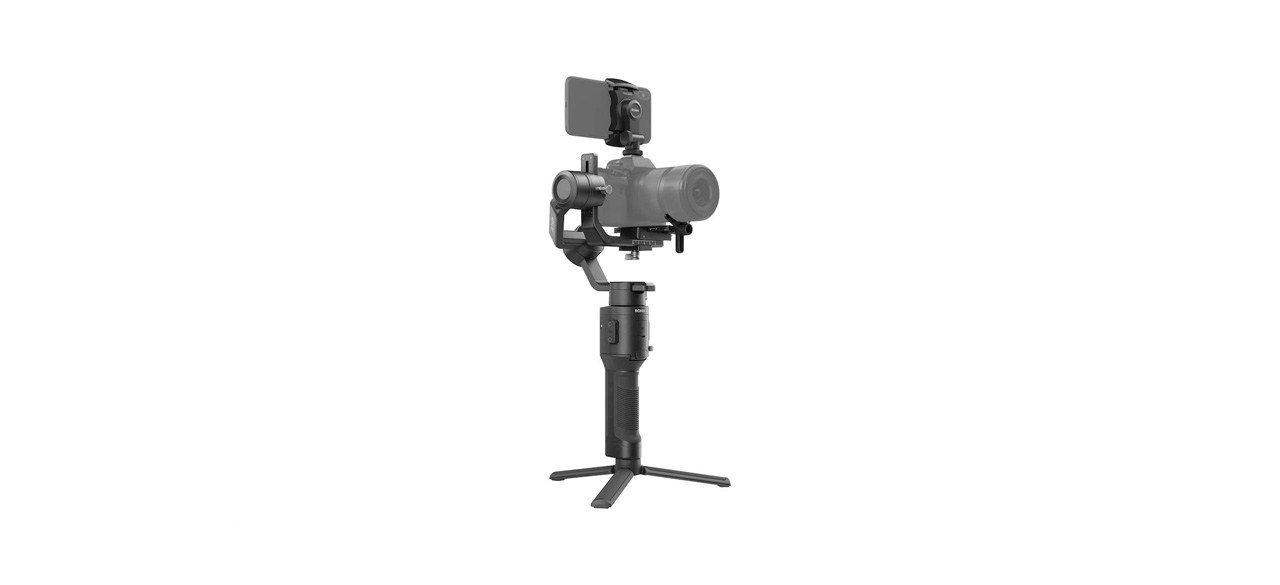 DJI Ronin-SC Camera Stabilizer
Slightly more expensive than other models, this camera stabilizer can easily accommodate gadgets up to 4.4 pounds. It has a well-designed handle that has fold-out tripod legs and several operational buttons. The mounting head is compatible with most cameras that use a 1/4-inch 20-thread and sits on a three-axis gimbal.
Sold by Amazon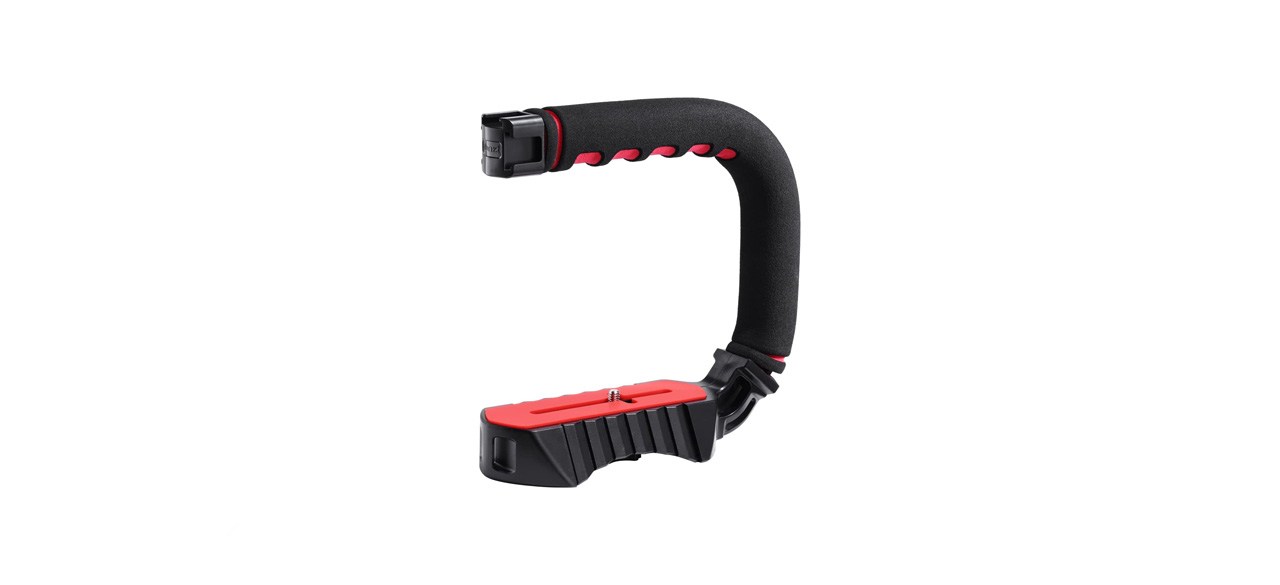 Ulanzi U-Grip Pro Handheld Video Rig
This camera stabilizer is lightweight and compact, which is great for all kinds of filming. It is compatible with most DSLR cameras that use a 1/4-inch screw and can accommodate mobile phones up to the iPhone 13. The top handle is textured for a better grip and there is a space to attach a microphone.
Sold by Amazon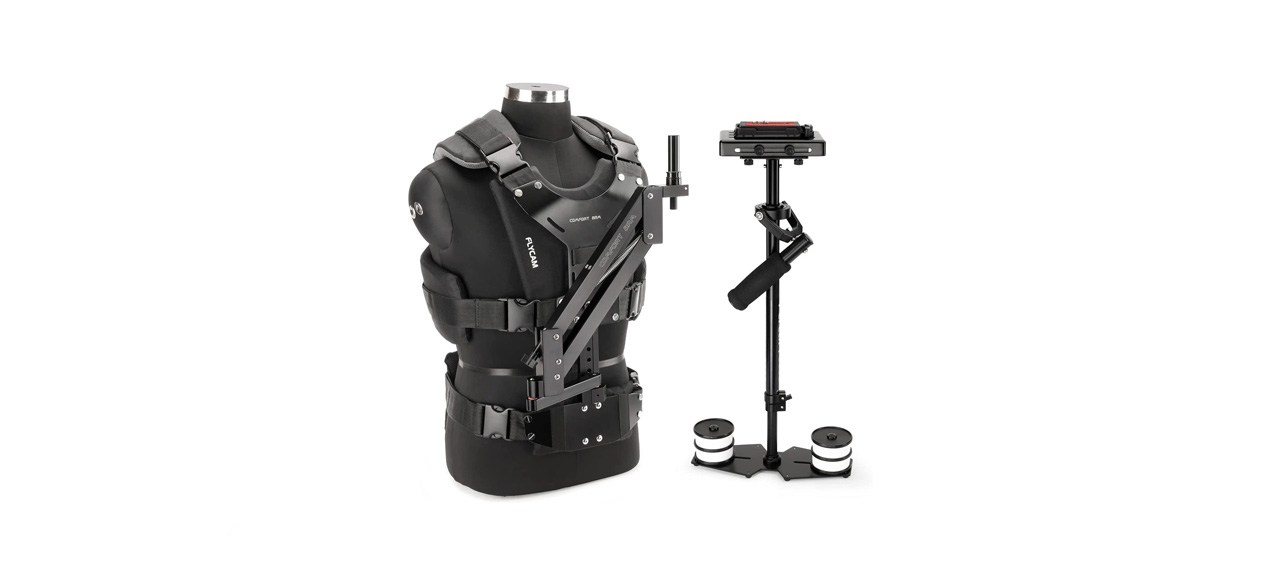 Flycam 5000 Hand-held Camera Stabilizer with Comfort Arm Vest
This vest and stabilizer arm combination is the best tool if you need additional stability. The Flycam 5000 is a hand-held camera stabilizer with weights at the bottom and a mounting head at the top. When you take the handle's foam covering off, you slot it over a small rod on the vest for maximum stability.
Sold by Amazon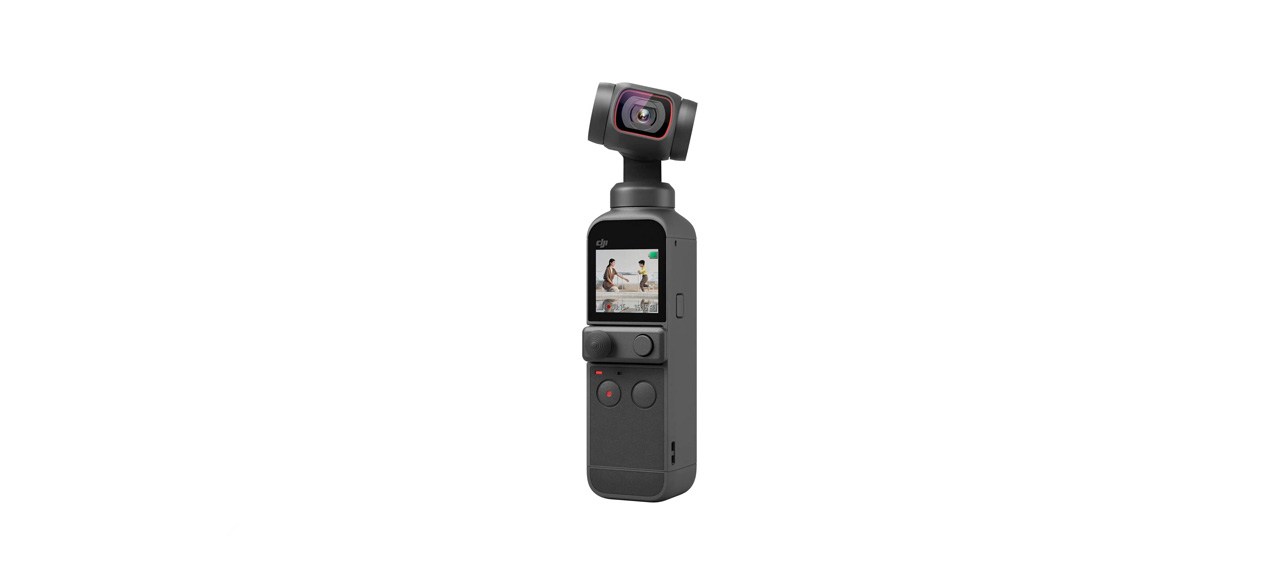 DJI Pocket 2 Hand-held 3-Axis Gimbal Stabilizer with 4K Camera
This is the perfect combination of camera and stabilizer if you don't want to struggle with finding the correct gadget for your shots. The DJI Pocket 2 camera captures images with 64 megapixels and videos at 4K resolution. It sits on top of a three-axis motorized gimbal stabilizer, which is compatible with long-exposure shots and low-light environments.
Sold by Amazon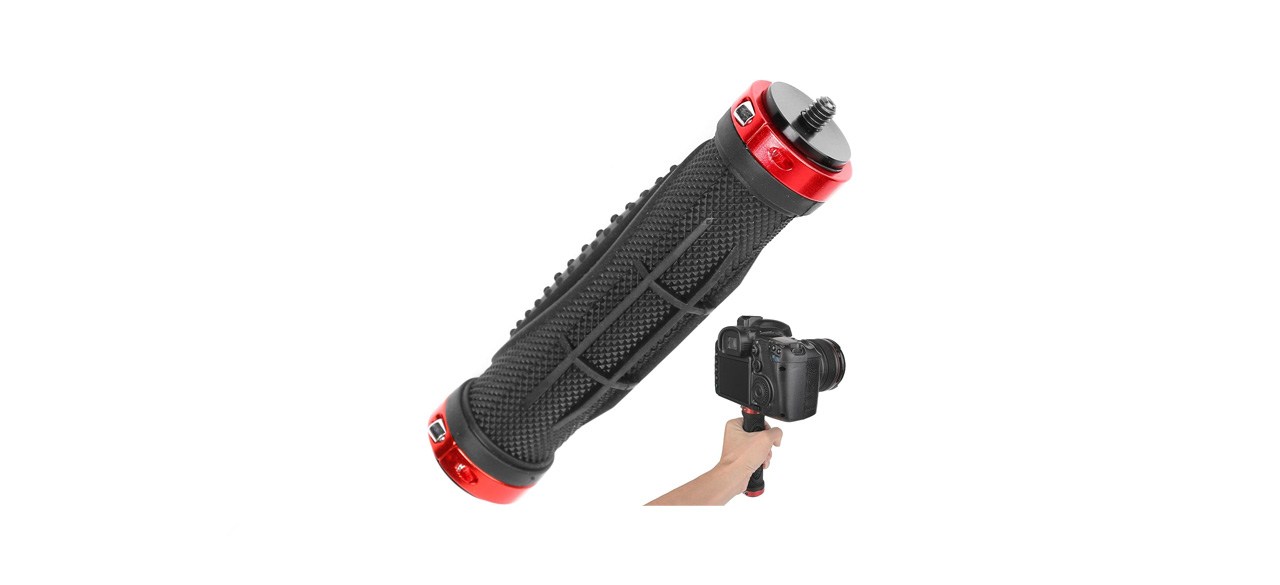 One of the cheapest options, this stabilizer doesn't use sophisticated motors or gimbals. It is simply a metal handle with a universal 1/4-inch mounting screw on the top. The handle is textured for increased grip and it's possible to install a ball head if you need a bit of rotation.
Sold by Amazon
Want to shop the best products at the best prices? Check out Daily Deals from BestReviews.
Sign up here to receive the BestReviews weekly newsletter for useful advice on new products and noteworthy deals.
Charlie Fripp writes for BestReviews. BestReviews has helped millions of consumers simplify their purchasing decisions, saving them time and money.
Copyright 2023 BestReviews, a Nexstar company. All rights reserved.